Discovering Your Spiritual Gifts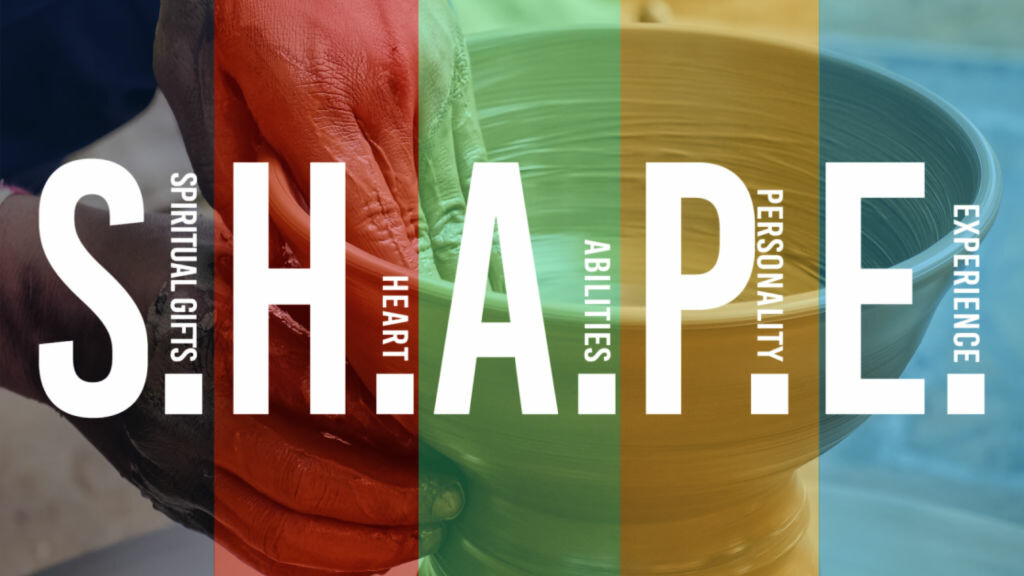 Aug 18, 2020

| by

Mike Prah
Discovering Your Spiritual Gifts and Serving in Your Unique S.H.A.P.E.
God wants us to be involved with His work. He wants us to use us as His human agents to fulfill His divine purposes for His glory and our benefit. God is so gracious that by His Holy Spirit, He freely distributes spiritual gifts to all who are saved. He not only wants us to know our spiritual gifts, but He expects us to grow in them each day. Discovering and exercising your God-given spiritual gifts allows you to experience maximum fulfillment in your life with minimum frustration. He gives us opportunities every day to put our gifts to use and bless others.
God has wired each of us uniquely for His ministry purposes. The Bible says: "For you have been called to live in freedom, my brothers and sisters. But don't use your freedom to satisfy your sinful nature. Instead, use your freedom to serve one another in love." Galatians 5:13 (NLT)
"We are God's masterpiece. He has created us anew in Christ Jesus, so we can do the good things He planned for us" Ephesians 2:10 (NLT)
Romans 12:6 tells us, "God has given each of us the ability to do certain things well. (LB)
At FavorLife, we believe that every member is a minister appointed and equipped by God with a unique S.H.A.P.E to SERVE God's people. S.H.A.P.E is an acrostic for:
S - SPIRITUAL GIFTS
H - HEART PASSIONS
A - ABILITIES
P - PERSONALITY
E - EXPERIENCE
Our SHAPE is our talents. When we serve using our SHAPE, we are functioning in our spiritual talents, and the results are: God's people are blessed, God is honored, we enjoy our contributions, and God, in turn, rewards us. This is the heart of ministry here at FavorLife. People who serve in the flesh typically get frustrated, easily give up, are not motivated, don't enjoy it, and the result is God's people are not blessed. It's like being right-handed and being asked to write with your left hand. It is awkward, frustrating; you will feel compelled, and eventually, you will quit. Here at FavorLife, we don't want anyone to serve in this manner. God says we should not do anything under compulsion; instead, we should serve cheerfully (2 Corinthian 9:7). We can only do this when we serve based on our S.H.A.P.E (Spiritual gifts, heart passions, abilities, personalities, and experience).
Our desire and delight is to help you determine your SHAPE mapped to a ministry area so you can serve God and His people passionately with dignity and joy. The process begins with completing an online Spiritual Gifts Survey followed by a discussion with Pastor Mike on where your spiritual gifts align with our ministry position.
Every Christian has a dominant spiritual gift, and many possess more than one. After you complete this survey, you will discover your dominant spiritual gifts. You can then begin to concentrate on further developing your spiritual gifts by using it on the Church to share the love of Christ in meaningful ways, and bear much fruit in your daily life and church ministry as you exercise your spiritual gifts. The Bible says:
"God has given each of you a gift from His great variety of spiritual gifts. Use them well to serve one another" 1 Peter 4:10 (NLT)
Please try to complete the questionnaire all at one-time. Pastor Mike will have access to your results for a discussion with you on how God has wired you uniquely for ministry here at FavorLife Church. He will go over the specific ministries that are best suited for you and with connect you with the Ministry leader for onboarding so you can serve God with passion and purpose. We are excited to partner with you to serve God's purposes. There is no greater life fulfilment than this!
Please click below to begin survey. God bless you!