Our God: Promise-Maker, Promise Keeper | Bible Study | Mike Prah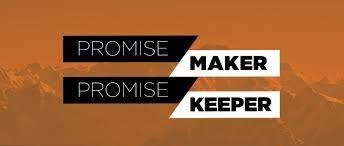 Jul 21, 2021

| by

Mike Prah
INTRODUCTION
Our God is a Promiser-Maker and Promise-Keeper. This study delves into the types of promises, why we don't receive what we expect, reasons for trusting God to honor His promises and our responsibility.
SUMMARY
A promise is only as reliable as the one who makes it. Because of circumstances beyond our control, we can't always keep our promises, but the sovereign Lord of the universe has never failed to fulfill His word. In order to understand how important the God's faithfulness is, we must recognize that the Christian life is totally dependent upon His promises. The Bible is filled with God's promises. While is it important to remember God's promises spoken about our lives, it is even more important to remember that God keeps every single one of His promises.
1. TWO TYPES OF PROMISES
This is a commitment made without exceptions. (Genesis 12:1-3).
This type of promise is subject to certain requirements . (Romans 10:9)
2. Some Reasons Why We Don't Always Receive What We Expect.
Desiring something and believing God will do it doesn't mean He's promised it to us.
Sometimes we misunderstand His will.
Unconfessed and un-repented sins that create barriers in our relationships with the Lord.
God's Word needs to be considered in its entirety
3. REASONS FOR TRUSTING GOD TO HONOR HIS PROMISES:

GOD'S TRUSTWORTHINESS
A. God is Truthful
Since truth is the very essence of His nature, it's impossible for Him to lie. Therefore, we can believe in His promises because He always tells the truth.
"Paul, a servant of God and an apostle of Jesus Christ to further the faith of God's elect and their knowledge of the truth that leads to godliness— in the hope of eternal life, which God, who does not lie, promised before the beginning of time" Titus 1:1-2 (NIV)
B. God is Faithful
"Let us hold tightly without wavering to the hope we affirm, for God can be trusted to keep His promise.: Hebrews 10:23 (NLT)
"Lord, You are my God; I will exalt You and praise Your name, for in perfect faithfulness You have done wonderful things, things planned long ago." Isaiah 25:1 (NIV)
"The faithful love of the Lord never ends! His mercies never cease. Great is His faithfulness; His mercies begin afresh each morning." Lamentations 3:22-23 (NLT)
C. God Never Changes (Immutable)
"I am the Lord, and I do not change. That is why you descendants of Jacob are not already destroyed." Malachi 3:6 (NLT)
"God is not a man, so He does not lie. He is not human, so He does not change his mind. Has He ever spoken and failed to act? Has he ever promised and not carried it through?" Numbers 23:19 (NLT)
D. God is Love
"Dear friends, let us love one another, for love comes from God. Everyone who loves has been born of God and knows God. 8 Whoever does not love does not know God, because God is love. 9 This is how God showed His love among us: He sent His one and only Son into the world that we might live through Him. 10 This is love: not that we loved God, but that He loved us and sent His Son as an atoning sacrifice for our sins." 1 John 4:10 (NIV)
"He who did not spare His own Son, but gave Him up for us all—how will He not also, along with Him, graciously give us all things?" Romans 8:32 (NIV)
"5 Now hope does not disappoint, because the love of God has been poured out in our hearts by the Holy Spirit who was given to us. 8 But God demonstrates His own love toward us, in that while we were still sinners, Christ died for us." Romans 5:5, 8 (NKJV)
E. GOD IS ABLE
1. OMNISCIENT
God knows every detail of a situation. He can see all of our lives from beginning to end. Every promise He makes is based on His infinite, perfect, and complete knowledge, which means He never makes a mistake.
"Nothing in all creation is hidden from God's sight. Everything is uncovered and laid bare before the eyes of Him to whom we must give account." Hebrews 4:13 (NIV)
"Late that night, the disciples were in their boat in the middle of the lake, and Jesus was alone on land. He saw that they were in serious trouble, rowing hard and struggling against the wind and waves. About three o'clock in the morning Jesus came toward them, walking on the water." Mark 6:47-48 (NLT)
2. OMNIPRESENT
"God is our refuge and strength, an ever-present help in trouble." Psalm 46:1 (NIV)
". . . God has said, "Never will I leave you; never will I forsake you" Hebrews 13:5 (NIV)
No matter what we're going through, He will never leave nor forsake us. His continual presence guarantees the fulfillment of every promise.
3. OMNIPOTENT
"The LORD has made the heavens His throne; from there He rules over everything." Psalm 103:19 (NIV)
"Ah, Sovereign Lord, You have made the heavens and the earth by your great power and outstretched arm. Nothing is too hard for You." Jeremiah 32:17 (NIV)
4. OUR RESPONSIBILITY
A. Obey God
B. Believe in God
C. Claim the promise
DIGGING DEEPER
SECTION 1: PERSONALIZING THE MESSAGE
(a). What insight from the message left the biggest impression on you? Why?
(b). What did you hear that encouraged or reassured you?
(c). What did you hear that challenged or convicted you?
(d). How did the message increase your appreciation for God the Father, Jesus Christ, or the Holy Spirit?
(e). From your personal experience, how can you illustrate a point from the message?
(f). Who can share the positive results of heeding the message or the painful consequences of disregarding its truth?
SECTION 2: APPLICATION OF THE MESSAGE
(a). What personal application of the message has the Lord shown you? How do you feel about following through with it?
(b). How should the message we heard affect or change our prayers?
(c). If we diligently apply the message, what effect would it have on personal lives and our daily walk with Christ?
(d). What would you say to share this helpful information to benefit someone who did not hear this message?